Tropicana Las Vegas Announces Closure Pending Public Ballpark Funding
Posted on: May 16, 2023, 05:14h.
Last updated on: May 16, 2023, 05:18h.
On Monday, regional casino operator the Bally's Corporation announced to its employees at the Tropicana Las Vegas that the casino resort will close in 18-24 months — pending approval of $395 million in public financing for a new stadium for the Oakland Athletics MLB team.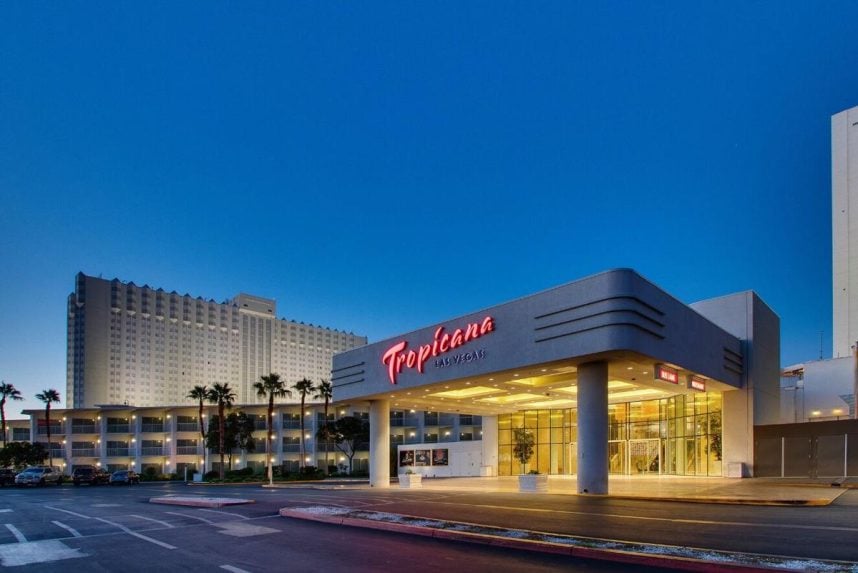 The deal calls for Bally's to implode the Tropicana, the third oldest resort on the Las Vegas Strip, as expected. However, the company also pledged to build a new, 1,500-room casino hotel on the property bearing the Bally's name.
Later on Monday, the A's and Bally's announced to the public a binding agreement to build a 35k-seat retractable roof stadium on the Tropicana's 35 acres, which includes an agreement with Gaming and Leisure Properties Inc., from whom Bally's leases the land. (GLPI has promised to contribute $175 million towards the redevelopment in exchange for "a commensurate rent increase.")
FAQ Up
The Tropicana's Monday closure announcement came in the form of an FAQ emailed to employees, news of which was first broken on Twitter by Casino.org's Vital Vegas blogger Scott Roeben. One of the FAQ's questions asked: "Will I lose my job?" The company's brusque answer was: "Yes, although, while Tropicana Las Vegas will be closed temporarily for redevelopment, we anticipate that employees will find an enhanced career opportunity when the casino hotel resort reopens."
In an update to the FAQ distributed on Tuesday, that question was removed and language added assuring the Tropicana's employees that they "will be given preference on employment opportunities and Bally's will maintain employee seniority" in the new casino resort.
Also in Tuesday's update, Bally's reminded employees that its plans "are in the very preliminary stages and not finalized for a ballpark," indicating room for the deal to fall through.
Currently, redevelopment of the Tropicana into a stadium will require approvals from Nevada, Clark County, and Major League Baseball. Legislation for the $395 million in public funding — also required for the deal to happen — is expected to be filed later this week. A decision is expected before the end of Nevada's current legislative session on June 5. However, that is not guaranteed.
Up until a couple weeks ago, the A's had been negotiating with Red Rock Resorts to build their new stadium on the 49-acre site of the casino company's already-demolished Wild Wild West Gambling Hall and Hotel. Although the A's and Red Rock Resorts also reportedly signed a binding agreement, those talks nevertheless fell through.
Union Steps Up to Plate
The Culinary Union's Local 226 chapter in Las Vegas — which has represented the Tropicana's hundreds of workers since the property opened in 1957 — also issued a statement on Tuesday. It assured the Tropicana's current workers that they will all receive union protection should Bally's fail to deliver on its promises.
"Culinary Union members at the Tropicana Casino have a strong union contract, which means that Tropicana workers are protected," read the statement from Culinary secretary-treasurer Ted Pappageorge.
Impacted workers will have access to free job training and continued benefits during any closure, the union's statement continued, in addition to seniority rights of first-access to job openings and placement in other jobs as available.
Pappageorge's statement pledged that Culinary "will negotiate to ensure worker's rights under the contract are strictly followed, so that workers have additional compensation, healthcare coverage, and pension benefits while the property is closed for development."
On May 12, Culinary also announced it had signed an agreement with the Oakland A's guaranteeing their future Las Vegas employees the right to organize and negotiate union contracts.
The original Tropicana was opened in 1957 on 40 acres at the corner of Las Vegas Boulevard and Bond Road (now Tropicana Avenue) by owner Ben Jaffe, an executive with the Fontainebleau Miami Beach. It is currently the Strip's third oldest resort, after the Flamingo, which opened in 1946, and the Sahara, which opened in 1952 — though only the Sahara retains the bones of its original structure.
Bally's paid $148 million last September to acquire Tropicana's building and the operating license from the real estate investment trust (REIT). Should the A's remain committed to that site, it could mean the clock is ticking on Tropicana, a once iconic casino hotel that opened in 1957 and was previously known as the "Tiffany of the Strip."